Ref:
Date:
Location:
Photographer:
Ref:
Date:
Location:
Photographer:
"The sandwich man"
By Piero Bortoli
01/09/04
"The sandwich man"
By
Piero Bortoli
I presented a live Art happening at the Liverpool Town Hall for the inauguration of the Liverpool Biennial 2004.
With my performance, I became a sandwich man in order to propagate Art as if it were a commercial business, alluding to the way the Gods of the Economy dictate people's choices.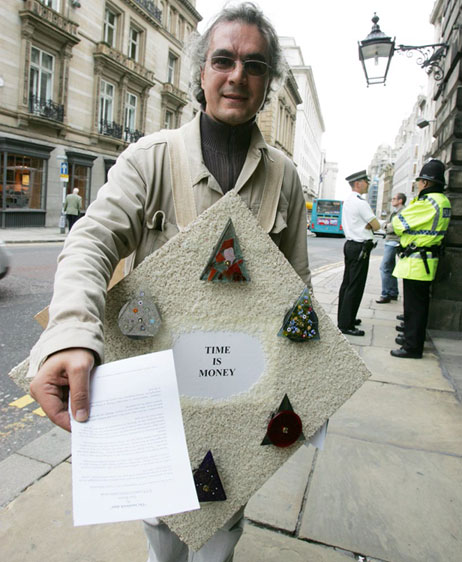 In this performance, the sandwich man's message is "Time is Money". Art as an object to consumed is represented through the clocks hanging on his board, each one unique and handmade in Murano glass. This is contrasted with the rice the sandwich man also uses in his performance, representing the essential survival needs of humans.
"Human beings have two kinds of treasure. One is clothing and the other is food. A sutra states, "Sentient beings live in dependence on food."' This passage means that living beings dwell in this world owing to food and clothing. Fish dwell in water and regard water as their treasure. Trees grow on the earth and regard the earth as their treasure. Human beings have life owing to food, and regard food as their treasure.
Life is the foremost of all treasures. It is expounded that even the treasures of the entire major world system cannot equal the value of one's body and life. Even the treasures that fill the major world system are no substitute for life. Life is like a lamp, and food is like oil. When the oil is exhausted, the lamp goes out, and without food, life will cease.
In accordance with their status, some have wives and children, relatives, fiefs, and gold and silver, while others have no treasure. Whether one has wealth or not, no treasure exceeds the one called life."
* From: THE MAJOR WRITINGS OF NICHIREN DAISHONIN vol.1